---
#PoisonIvy
1992 Mitsubishi Eclipse GSX
---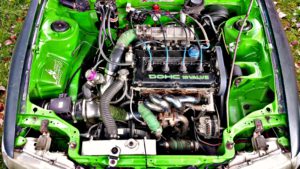 #PoisonIvy is the face of Eat Sleep DSM and is widely known around the DSM Community. [SPOOLIGAN] bought the car as a bare shell and built it from the ground up on crutches, shortly after his near fatal car accident with his Kona Blue 2G Talon known as #VirginMary. The 6 bolt 4G63 engine in #PoisonIvy, came out of the wrecked 2G that [SPOOLIGAN] had previously built before the accident.
Power: Est. 380 hp.
Engine: 4G63 | 6 Bolt | 2.0L DOHC
Bottom End: Bored .20 over | NPR Pistons | Stock 6 Bolt Rods | Stock Crank | Balance Shaft Elimination
Head: BC272 Cams | BC Valve Springs |ARP Head Studs | Machine Work | Gates Racing Timing Belt
Forced Induction: MHI Evo III 16G Turbo | VRSF FMIC and Piping | Greddy BOV | Aluminum Hard Intake Pipe | K&N Air Filter | 2G MAF | Halman In-cabin MBC
Fuel: PTE 1000cc. Injectors | Walbro 255lph. Fuel Pump | Aeromotive AFPR | 93 Octane
Exhaust: Front Bumper Exit Exhaust | Tubular Header | Tubular O2 Housing with Wastegate Dump
Ignition: NGK Spark Plug Wires | NGK BR8ES Spark Plugs
Engine Management: Tuned with ECUflash/EVOscan | Evo VIII ECU | Innovate LC2 Wideband | AutoMeter Boost, Water Temp, Oil Pressure, and Oil Temp gauges
Cooling: 90 Oil Filter Housing | STM Oil Cooler with SS Braided Lines | Aluminum 3 Row Radiator
Drivetrain: Stock 5 Speed Transmission | 3 Bolt LSD Rear | Fidanza 4.3 Clutch| Fidanza Aluminum Lightweight Flywheel | Torque Solutions Driveshaft Carrier Bearing Bushings | SS Braided Clutch Line
Suspension: OEM Struts | Megan Racing Lowering Springs
Brakes: ABS Delete | SS Braided Front Brake Lines
Lubricants: Brad Penn 20W-50 Oil | Prestone Antifreeze 50/50 Mix
Deletes: ABS | Power Steering | AC | FIAV | FPS | Emissions | EGR | Heater Core |Windshield Wipers | Rear Defogger | Windshield Wiper Fluid Reservoir | Cruise Control | Radio | Speakers | Misc. Interior | Radio Antenna
Relocations: Fuse Box Under Dash | Injector Resistor Box Under Dash | PTU Under Dash | Battery to Hatch | Coil Pack to Firewall
Misc.: Eat Sleep DSM Wiring Harness | Push Button Start | Rear Mounted Kill Switch | Avid Racing Solid Motor Mounts | Dual Oil Catch Can Setup | Non-cruise Throttle Cable
Wheels: ZEN 18″
Tires: Auto Grip 245/40R18
---
#Sapphire
1994 Eagle Talon TSi AWD
---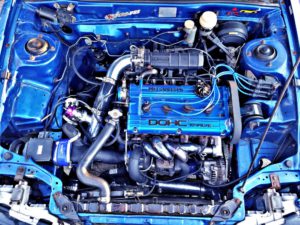 #Sapphire is owned by Kurt Barnes. This beautiful first generation DSM was also built from the ground up. Kurt bought the car as a shell just south of Wilkesbarre, PA. Over the course of just a couple of years, miss #Sapphire became quite a beauty to look at.
Power: Est. 300 hp.
Engine: 4G63 | 6 Bolt | 2.0L DOHC
Bottom End: Stock Pistons | Stock 6 Bolt Rods | Stock Crank
Head: Stock Rebuilt Head | Gates Racing Timing Belt
Forced Induction: eBay 20G Turbo | VRSF FMIC and Piping | Greddy BOV | Hard Intake Pipe | K&N Air Filter | 2G MAF
Fuel: FIC 550cc. Injectors | Walbro 255lph. Fuel Pump | 93 Octane
Exhaust: Full 3″ Turbo-back Exhaust | Tubular Header | Tubular O2 Housing with Wastegate Dump
Ignition: NGK Spark Plug Wires | NGK BR6ES Spark Plugs
Engine Management: Tuned with ECUflash/EVOscan | Evo VIII ECU | Innovate LC2 Wideband | AutoMeter Boost, Water Temp, Oil Pressure, and Oil Temp gauges
Cooling: 90 Oil Filter Housing | Aftermarket Oil Cooler with SS Braided Lines
Drivetrain: Stock 5 Speed Transmission | 4 Bolt LSD Rear | Torque Solutions Driveshaft Carrier Bearing Bushings
Suspension: OEM Struts | Lowering Springs
Brakes: ABS Delete | Dual Piston Front Calipers
Lubricants: Brad Penn 20W-50 Oil | Prestone Antifreeze 50/50 Mix
Deletes: ABS | Power Steering | AC | FIAV | FPS | Emissions | EGR | Cruise Control
Relocations: Fuse Box Under Dash | Injector Resistor Box Under Dash | PTU Under Dash | Battery to Hatch | Coil Pack to Firewall
Misc.: Eat Sleep DSM Wiring Harness | Push Button Start | Rear Mounted Kill Switch | Non-cruise Throttle Cable
Wheels: Stock 2G 17″
Tires: Auto Grip 205/55R17


---